Introduction:
Over the past few decades, laparoscopic cholecystectomy has solidified its position as the gold standard for treating symptomatic cholelithiasis. Due to the development and commitment to the idea of the critical view of safety, the operation's safety has improved over time. However, the cystic duct is typically separated closer to the gallbladder to prevent iatrogenic common bile duct damage when there is severe inflammation in the triangle of Calot or challenging anatomy, leaving behind a long cystic duct remnant measuring more than 1 centimeter. This residue may contain residual calculi or, over time, develop recurrent calculi as a result of bile stasis, which may result in postcholecystectomy syndrome [PCS] (1-4). In this context of this, a research study was conducted to assess the profile of patients treated for PCS due to retained cystic duct stumps.
Material and Methods:
Study Design: Retrospective, cross sectional, descriptive study.
Data collection and analysis: The study was conducted at the Department of General Surgery, SKIMS Medical College, Srinagar, Kashmir. After proper approval from the departmental research and ethics review committee, a chart review was performed for all the patients identified as having undergone a surgical reintervention for postcholecystectomy syndrome due to a retained cystic duct after laparoscopic cholecystectomy from January 2010 to July 2021. The data included demographics, details of past surgical operations, clinical presentation, management, complications, and follow-up.
The exclusion criteria included the cases in which exploration was undertaken post-cholecystectomy (i) for other complications, including bile duct injury or bleeding, (ii) for residual gallbladder after deliberate and documented partial cholecystectomy at the index operation, and (iii) after index open cholecystectomy.
The data was analysed with Microsoft Excel -2020 and Statistical Package for the Social Sciences (SPSS v20.0; IBM SPSS, Armonk, NY).
Operative technique: Surgical reintervention for the residual cystic duct was undertaken under general anaesthesia through a laparoscopic approach or an open midline or right subcostal incision. After adhesiolysis, the cystic duct remnant was dissected by approaching the porta hepatis and the Calot triangle. The dissected duct was clipped or ligated, leaving a stump less than 1 cm in size. A closed drain was placed at the end of the procedure.
Results
From January 2010 to December 2021, 2176 laparoscopic cholecystectomies were conducted, and only 20 (0.01%) required re-exploration for symptomatic residual cystic ducts. As depicted in Table 1, there were 14 males (70%) and 6 females (30%), ranging in age from 21 years to 61 years (mean 33 years and 6 months). The time of presentation after index cholecystectomy ranged from 3 months to 7 years (mean: 2 years), as depicted in Figure 1, with 10 (50%) presenting within the first year and 16 (80%) with three years. Seventeen (85%) patients suffered from chronic dyspepsia (Figure 2), and the symptoms were identified as similar to their pre-cholecystectomy status in 13 out of these 17 cases (76.5%). Only three (15%) patients reported an acute abdomen resembling acute cholecystitis. An abdominal ultrasound (USG) was carried out on all the patients. An MRI (Magnetic resonance cholangiopancreatography) study and CT scan were conducted in 7 (35% of the cases) and 6 (30% of the cases, respectively. All the patients were operated on an elective basis, with the approach being open in 17 (85%) and laparoscopic in 3 (15%). Cystic duct remnant had been reported in the operation notes as long in all the cases, but dimensions were recorded in only 12 cases (range: 2.5 cm-4 cm; mean 2.8 cm). Cystic duct calculi were found in 5 (25% of the cases), Hartman's pouch remnants in 2 (10%), and histopathology revealed a neuroma in 1 (5% of the cases). The approximate operation time ranged from 50 to 120 minutes (mean 87 minutes). The short-term complications included superficial surgical site infection in 3 (15%) and right basal atelectasis or pneumonia in 1 (5%). Seven (35%) cases were lost to follow-up, and in the remaining 13 (65%), the follow-up ranged from 3 months to 3 years (mean: 1 year and 1 month). One (5%) patient reported persistent dyspepsia at follow-up and was attached to the services of the gastroenterology division.
Table 1: Clinical profile of patients with symptomatic residual cystic duct.

S No

Gender (M/F)

Age (years)

Time since index cholecystectomy

(Month - m; year -y)

Clinical features

Comorbidity, if any

Imaging tools used in workup

Surgical Approach

Stump length (cm)

Other findings (Gross /Microscopic)

Operation time (minutes)

Complications (Yes - Y; No - N; If yes, state)

Follow up (months - m; years -y)

Chronic Dyspepsia

Stump cholecystitis (acute)




USG

CT scan

MRI

Open

Laparoscopic

1

M

41

2y

✓






✓






✓




3




70

N

3 y

2

F

36

3y 6m

✓






✓

✓




✓




2.5

CDC

85

N

2y

3

M

45

8m

✓






✓






✓




-

HMR

90

N

-

4

M

44

6m

✓






✓

✓




✓




2




70

N

-

5

F

29

3y

✓






✓






✓




2.5

CDC

100

Y: SSSI

-

6

M

38

6y

✓






✓






✓




3

Neuroma

95

N

1y

7

M

41

9m

✓






✓

✓




✓




-




75

N

-

8

M

43

2y

✓






✓

✓




✓




3.5

HMR, CDC

85

N

-

9

F

52

2y 6m

✓




DM, HT

✓






✓




-




120

Y: SSSI

6m

10

F

27

9m




✓




✓






✓




2.5




75

N

1y

11

M

34

1y 9m

✓






✓

✓




✓




4




100

N

-

12

M

45

6m

✓






✓






✓




-




95

N

6m

13

M

56

7y

✓






✓




✓

✓




-

CDC

85

N

-

14

F

61

8m




✓

HT

✓




✓

✓




3




110

N

2y

15

M

44

5y

✓






✓

✓






✓

2

CDC

65

N

3y

16

F

38

10m

✓






✓




✓




✓

-




85

Y: basal atelectasis

6m

17

M

57

3y

✓




HT

✓




✓

✓




2.5

CDC

105

Y: SSSI

6m

18

F

32

6m




✓

DM

✓




✓




✓

-




100

N

3m

19

M

37

3m

✓






✓




✓

✓




3




80

N

1y

20

M

46

4m

✓




HT

✓




✓

✓




-




50

N

6m

CDC: Cystic duct calculi; SSSI: Superficial surgical site infection; HMR: Hartman's pouch remnant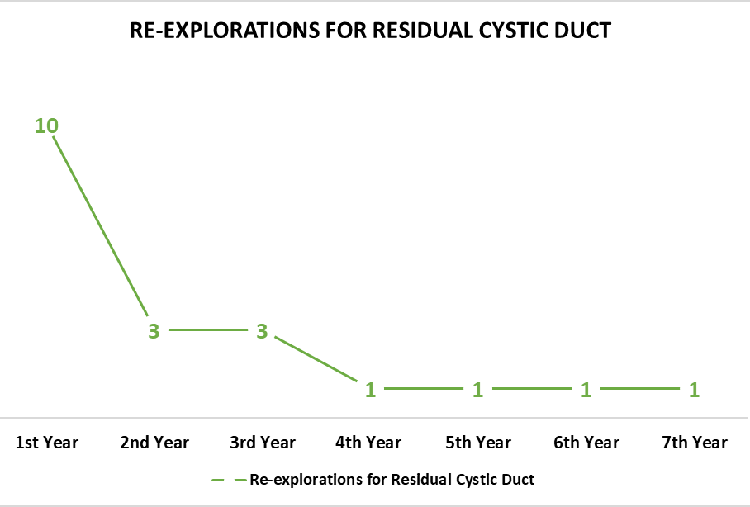 Figure 1: Time-frame of re-explorations for symptomatic residual cystic duct.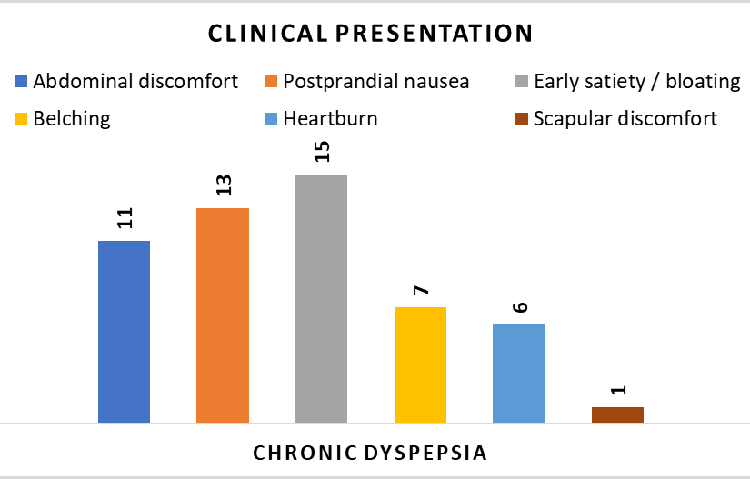 Figure 2: Symptoms in patients of residual cystic duct presenting as chronic dyspepsia.
Discussion
In recent decades, laparoscopic cholecystectomy has attained the status of the gold standard for the treatment of symptomatic cholelithiasis. Some patients, however, suffer from a complication termed postcholecystectomy syndrome (PCS), wherein the preoperative symptoms may persist after open or laparoscopic cholecystectomy (5). In laparoscopic cholecystectomy, particularly in the presence of acute cholecystitis or distorted anatomy, there is a tendency to divide the cystic duct closer to the gallbladder to avoid iatrogenic common bile duct damage, thereby leaving behind a cystic duct remnant that measures greater than 1 centimeter. This remnant may, in the course of time, lead to PCS, especially when calculi are present (6-7). The incidence of PCS varies widely in the literature, from 5 to 30% (8). As the name implies, this syndrome can either signify the emergence of new symptoms that are often associated with the gallbladder or the persistence of symptoms brought on by gallbladder pathology, which include fatty food intolerance, nausea and vomiting, heartburn, postprandial fullness, bloating and flatulence, indigestion, and intermittent episodes of abdominal pain. To arrive at a correct diagnosis, a thorough history, meticulous physical examination, laboratory work, abdominal imaging, and/or endoscopy are useful, as they help in identifying or ruling out either biliary or non-biliary aetiologies of PCS (9).
PCS can present early, typically in the post-operative period, but can also appear months to years later. PCS may occur secondary to the gallbladder remnant, a long cystic duct stump, surgical bed scarring or neuromas, biliary strictures, sphincter of Oddi dysfunction, recurrent calculi, granulomas, or choledochocele. A high index of suspicion is needed to diagnose this condition, but as the symptoms are very similar to those of PCS, they may arise from other organic gastrointestinal disorders, and the differential diagnosis can be extensive (10).
In our series, the mean time between the primary cholecystectomy and presentation was 2 years. In the literature, a wide range of time has been documented. In a recent series by Popescu et al., the period between the primary surgery and the surgery to complete the resection varied between 2 years and 22 years (11). Palanivelu et al. reported 15 patients with cystic duct remnant calculi in whom the duration between the index surgery and re-exploration ranged between 6 months and 10.7 months (12).
In the present series, a transabdominal ultrasound study was conducted in all the cases as the first-line imaging modality, and a CT scan or MRI was done as the second-line modality in 7 (35%) and 6 (30%) cases, respectively. This approach concurs with the findings in the literature. The accuracy of transabdominal USG in the detection of cystic duct remnants was found to be 60% by Palanivelu et al.(12) However, this imaging modality is user-dependent. Filip et al. (13), while prospectively evaluating 80 patients with postcholecystectomy symptoms, used transabdominal USG as the first tool but followed with endoscopic ultrasound (EUS) and found that the sensitivity and specificity of EUS were high in the subgroup of patients with biliary or pancreatic symptoms (96.2% and 88.9%) and helped to indicate subsequent investigations like ERCP. MRCP was found to be similar to EUS in sensitivity and specificity, besides being non-invasive and posing no radiation risk.
The surgical approach for re-exploration in this series was open in 17 (85%) and laparoscopic in 3 (15%), and all the patients were operated on an elective basis after proper optimization, including the 3 (15%) that had reported with acute symptoms. Laparoscopic approach has been adopted in the last four years. This can be explained on the basis of the learning curve of the surgeons. The literature from the high-volume centres shows that the laparoscopic approach can be used very successfully in re-exploration. Palanivelu et al. in their series managed 15 patients (100%) with cystic duct remnants by successful laparoscopic excision (12).
Popescu et al., in their series, re-explored 14 (100%) patients laparoscopically, and there were 4 cases of subtotal cholecystectomies and 10 cases of cystic duct stump stones. They concluded that the laparoscopic approach is preferable for re-exploration due to the benefits that laparoscopic surgery brings, but stressed the requirement of surgeons experienced in advanced laparoscopic techniques because of adhesions following the previous procedure (11). In a series by Tania et al., all 7 cases were treated laparoscopically without conversion with a mean operative time of 62 minutes, and the authors stress that despite adhesions in the gallbladder fossa, these patients can be managed well with laparoscopic surgery (14). They emphasized the importance of proper dissection and identification of the gallbladder - cystic duct junction to minimize the chances of leaving a residual stump. They further emphasized that the cystic duct stump calculi diagnosed on ultrasound as a cause of these symptoms may actually be in the remnant gall bladder (14). Matsudaira et al. in 2020 reported the safe and successful application of intraoperative near-infrared (NIR) fluorescence cholangiography to visualize the biliary tract while performing laparoscopic remnant cystic duct resection (10). For patients unfit for surgery, certain other treatment modalities are mentioned in the literature, including endoscopic retrograde cholangiopancreatography with basket (15), laser lithotripsy (16), and extracorporeal shockwave lithotripsy (ESWL) with or without endoscopic stone removal.
Conclusion
In the current era of laparoscopic surgery, there is a tendency to leave behind a longer cystic duct stump due to the practice of ligating the cystic duct close to the gall bladder to avoid common bile duct injuries, thereby predisposing to postcholecystectomy syndrome. We should be aware of this entity and evaluate it for this condition by conducting proper investigations if no other cause of the symptoms is found. Transabdominal USG followed by MRCP or endoscopic USG can clinch the diagnosis. Surgery is the treatment of choice, and a laparoscopic approach in the hands of an expert surgeon can be adopted safely.
Limitations
The data may not be conclusive, and this possibility arises from the fact that the patients are not legally bound to follow-up at a particular treating institution, and hence, there is a potential that some symptomatic cases may have sought treatment from other healthcare facilities in the government and private sector. This factor is worth mentioning because, over the last decade, the healthcare setup has significantly improved due to the commissioning of multiple tertiary and secondary healthcare facilities in the Kashmir valley.
Acknowledgments
All authors declare that they have no conflicts of interest. Author 1 (AAR) has compiled the data and results, and the other two authors (SAS and MAF) have participated in the compilation of the other components of the article.
References
Walsh RM, Ponsky JL, Dumot J. Retained gallbladder/cystic duct remnant calculi as a cause of postcholecystectomy pain. Surg Endosc. 2002 Jun;16(6):981-4
Vyas FL, Nayak S, Perakath B, Pradhan NR. Gallbladder remnant and cystic duct stump calculus as a cause of postcholecystectomy syndrome. Trop Gastroenterol. 2005 Jul-Sep;26(3):159-60.
Chatra PS. Cystic duct remnant: a rare cause for post-cholecystectomy syndrome. BJR Case Rep. 2017 Nov 22;4(1):20170043.
Mergener K, Clavien PA, Branch MS, Baillie J. A stone in a grossly dilated cystic duct stump: a rare cause of postcholecystectomy pain. Am J Gastroenterol. 1999 Jan;94(1):229-31.
Peterli R, Merki L, Schuppisser JP, Ackermann C, Herzog U, Tondelli P. Postcholecystectomy complaints one year after laparoscopic cholecystectomy. Results of a prospective study of 253 patients. Chirurg. 1998 Jan;69(1):55-60.
Shaw C, O'Hanlon DM, Fenlon HM, McEntee GP. Cystic duct remnant and the 'post-cholecystectomy syndrome'. Hepatogastroenterology. 2004 Jan-Feb;51(55):36-8.
Rozsos I, Magyaródi Z, Orbán P. The removal of cystic duct and gallbladder remnant by microlaparotomy. Acta Chir Hung. 1997;36(1-4):297-8.
Mohamadnejad M, Hashemi SJ, Zamani F, Baghai-Wadji M, Malekzadeh R, Eloubeidi MA. Utility of endoscopic ultrasound to diagnose remnant stones in symptomatic patients after cholecystectomy. Endoscopy. 2014 Aug;46(8):650-5.
Schofer JM. Biliary causes of postcholecystectomy syndrome. J Emerg Med. 2010 Oct;39(4):406-10.
Matsudaira S, Fukumoto T, Yarita A. Hamada J, Hisada M, Fukushima J, Kawarabayashi N. A patient with cystic duct remnant calculus treated by laparoscopic surgery combined with near-infrared fluorescence cholangiography. Surg Case Rep 2020; 6 :146.
Popescu RC, Leopa N, Dumitru A, Dan C, Dosa A, Bosneagu R, Lordache IE, Botea F. Residual Gallbladder and Cystic Duct Stump Stone after Cholecystectomy: Laparoscopic Management. Chirurgia (Bucur). 2021 Aug;116(4):484-491.
Palanivelu C, Rangarajan M, Jategaonkar PA, Madankumar MV, Anand NV. Laparoscopic management of remnant cystic duct calculi: a retrospective study. Ann R Coll Surg Engl. 2009 Jan;91(1):25-9.
Filip M, Saftoiu A, Popescu C, Gheonea DI, Iordache S, Sandulescu L, Ciurea T. Postcholecystectomy syndrome - an algorithmic approach. J Gastrointestin Liver Dis. 2009 Mar;18(1):67-71.
Tantia O, Jain M, Khanna S, Sen B. Post cholecystectomy syndrome: Role of cystic duct stump and re-intervention by laparoscopic surgery. J Minim Access Surg. 2008 Jul;4(3):71-5.
Pawa R, Dorrell R, Pawa S. Endoscopic management of cystic duct stones and Mirizzi's syndrome: experience at an academic medical center. Endosc Int Open. 2022 Jan 14;10(1):E135-E144.
Benninger J, Rabenstein T, Farnbacher M, Keppler J, Hahn EG, Schneider HT. Extracorporeal shockwave lithotripsy of gallstones in cystic duct remnants and Mirizzi syndrome. Gastrointest Endosc. 2004 Sep;60(3):454-9.