Introduction:
A girl's first menstruation or period marks the start of her reproductive life and is a significant event in her life also. In India rather than biological factors, the topic of menstruation has a more socio-cultural myth and significance as it is considered under pure and pollutant concept over the centuries (1). Traditional societies have put a lot of restrictions and stigma on women in this case. Usually, adolescent girls in the Indian subcontinent will be having menstruation from the age of 11-12 years (2). Biologically "menstruation is a periodic and cyclical peeling of endometrium accompanied by loss of blood for every 28 days". Studies have shown that there is a good connotation between various demographic issues including schooling, income, occupation, residence, poverty, and the use of sanitary pads as a part of hygienic menstruation management (3). Nevertheless, it has been found that only 68 million adolescent girls out of 113 million attend school during a period with unscientific menstrual hygiene management (MHM) practices and cultural taboos are regarded as obstructions to their school attendance(3,4). Gender-based health disparity is also a key reason in rural parts why sometimes girls are not allowed to access the modern pads(1).
Menstrual hygiene management (MHM) is very crucial as an integral part of reproductive health in woman's life. A study has proved that good MHM has decreased the school dropouts rate from 4% to 1% and vaginitis by 41%(5). Lack of knowledge and poor and unhygienic engagement of the mensuration among the mothers also influence of their daughters. Also, it may lead to serious health problems including cervical cancer, reproductive tract infections, urinary tract infections, smelling and some studies have also found poor menstrual management has also a close link to stillbirths, infertility, repetitive medical termination etc.,(1,4,5).
Common traditional and unsanitary behaviors, particularly in rural parts, include recycling old clothing as pads, using ash, sand pad or straw, which endangers menstrual hygiene and has long-term effects on women's reproductive health or even death some times(6). In rural areas, today some poor women are using reusable cloth to pads. It is observed that lack of proper drying of used cloth before its reuse results in causing severe infections (4). It is also noted that high cost, lack of awareness, unavailability, lack of disposal facilities are some of the reasons why some times rural adolescent females may not use the sanitary pads (1,2). However, in a recent study titled "Menstrual Waste 2022," by an NGO called "Toxics Link" found the presence of phthalates and volatile organic compounds, which are known to cause cancer and other health problems.
The aim of this paper is to reveal menstrual hygiene practices among adolescent females in two backward districts of Karnataka, and to reveal the relationship between menstrual hygiene practices and changing socio-demographic factors.
Methods:
The primary data is collected using a three-stage stratified random sampling technique in the year 2022. The study has been done in the Chamarajanagara and Chitradurga districts. According to the Niti Ayoga report (2015), Chamarajanagara and Chitradurga districts in Karnataka state are categorized under the backward districts. Also, these districts have poor health infrastructure. In the second stage, four talukas were chosen from each district based on the results of a National Family Health and Welfare Survey-2018. Following that, from each taluka, the required number of villages for the survey was determined based on the village-level socio-economic data and the demographic representation of the villages. In the final stage, approximately 536 households from the selected villages were shortlisted for the current study with the help of ASHA workers in the above two districts. From 536 households, 384 female adolescents (respondents) aged between 10-18 years were chosen at random for the study (minimum sampling). Before the study, oral consent was taken from both the respondents and their mothers. With the help of ASHA workers, counseLling was also done in some cases on menstrual issues. Local PHC doctors were also consulted during the study.
The survey questionnaire was filled out by the respondents. As inclusion criteria, we contacted only the school/pre-university going respondents whose cycle has started and consented from the parents. Girls who are less than 10 years old (menstruation has not started yet) and girls who are more than 19 years old were the exclusion criteria. In some cases, the mothers of adolescent participants have also been interviewed. Data has been analyzed using SPSS 18.0 version (IBM). Frequency tables and p-value were obtained. The qualitative data were analyzed using the NUD*ISD database. Ethical clearance was obtained from a local institute Karnataka Kidney Health Foundation Trust®, Mysore.
Results
Table 1: Socio-Demographic Characters of the Respondents

Particulars

Number and Percentage (n=384)

Age of the Respondents

10-15

87(22.6)

16-19

297(77.3)

Level of Education (Mothers)

Primary

112(29.1)

Upper Primary

45(11,7)

High school

178(46.3)

College

26(6.7)

Illiterates

26(6.7)

Education of the Respondents

Primary

76(19.7)

Upper Primary

78(20.3)

Pre-university

115(30.0)

College

98(25.5)

No education

5(1.3)

Family occupation

Skilled

56(14.5)

Unskilled

186(48.4)

Government

12(3.1)

Private

98(25.5)

No job

32(8.3)

Family income (Rs)

5000-10000

198(51.5)

10000-15000

95(24.7)

Above 15000

91(23.6)

Social group

SC/ST

57(14.8)

OBC

186(48.4)

Others

141(36.7)

Family type

Joint

157(40,8)

Nuclear

227(59.2)
The socio-demographic issue is an important predictor of healthcare and healthcare-seeking behavior of the community. The Table shows that the majority of mothers (46%) of the adolescent respondents had completed high school education (46%) and some of them have finished college education (6%). Family occupation is one of the important factors for healthcare behavior. In the case of occupation, it has been found that 48% of them work in unskilled jobs and 8% of them have no good such jobs. In the case of income, the majority of them (51%) are found to be from the lower middle class as their income is between Rs. 5000-10000/-pm. It has been found that 48% of the respondents are belonging to the other backward class and 59% of them are belonging to the nuclear family.
Table 2: Menstrual Characteristics of Adolescents
Characteristics (n=384)

Number and Percentage

Knowledge about menstruation before menarche

Yes

199(51.8)

No

185(48.1)

Sources of information

Mothers

163(42.4)

Schools

98(25.4)

Medias

43(11.1

Friends and others

80(2.0)

Age of menarche

10-11(early)

89(23.1)

11-12(medium)

218(56.7)

12-14 (late)
77(20,0)

Cycle length

3-4 days

196(51.0)

4-5days

104((27.0)

Above 5 days

84((21.8)

Regularity

Yes

147(38.2)

No

200((52.0)

Some issues

37(9.6)

Loss of blood (as perceived by the respondents)

Medium

143(37.2)

Moderate

163(42,4)

Heavy

78(20.3)

Dysmenorrheal issue

Yes

213(55.4)

No

171(44.5)

Perception on bleeding

Uterus

78(20.3)

Vagina

123(32.0)

Abdomen

67(17.4)

No idea

116(30.2)

Consulting a doctor for menstrual issues

Yes

121(31.5)

No

263(68.4)

Easy access to sanitary pads for women

Yes
221(57.5)

No

163(42.4)
Menstrual characteristics analysis has revealed that 48% respondents were well aware about mensuration before the menarche and 42% of respondents said their mothers have taught them about menstrual issues first time while 25% have learned from the school teachers who have taught them about menstrual topic.
One of the most significant characteristics is the age of menarche. The majority of respondents have attained menarche between the ages of 11 and 12 years, and 23% of them had early menarche between the ages of 10 and 11 years as the study found. Around 51% of respondents reported their cycle lasts for 3 to 4 days, while 21% of them said their cycle lasts longer than 5 days. Additionally, 52% of respondents are not getting their periods regularly. It has been found that 20% of adolescents experience high blood loss during their periods, compared to 42% who experience moderate loss. Also, it is noted that the majority of them suffer from dysmenorrhea (55%). Only 20% of adolescents have the correct understanding of bleeding during the menstrual cycle as the study found. Furthermore, only 68 of respondents sought medical attention for menstrual problems. Also, it has been found that 57% of women in rural areas of the survey do not have access to sanitary pads, as seen in the above Table.
Table 3: The Practice of Menstrual Hygiene

Particulars

Number and Percentage

Material used during menstruation (n=384)

Re-usable cloth

121(31.5)

Sanitary pad

254(66.1)

Others

9(2.3)

Reason for preferring disposable pads(n=254)

Easy to manage

 111(43.7)

Clean

80(31.4)

Hygiene
53(20.8)

Others

10(0.3)

Method of disposing of sanitary pads (n=254)

Dustbin

43(17.0)

Toilet

127(50.0)

Along with other waste

54(21.2)

Garbage dumping

30(11.8)

Frequency of changing pads (n=254)

Two times a day

45(17.5)

Depends

45(17.5)

One time a day

121(47.7)

No change

43((17.0)

Reason for not using sanitary pads (n=130)

Costly

51(39.2)

Unavailability in rural areas

24(18.4)

Tradition and custom

25(18.8)

Not comfortable

11(4.3)

Shyness to buy

11(4.3)

No reply

8(3.1)

Method of drying cloth pad (n=130)

Sunlight

45(34.6)

Inside home

17(13.0)

Covering under another cloth

68(52.3)
Information on the practice of menstrual hygiene reveals a few key factors. Around 66% of respondents are using modern sanitary pads while 31% of using reusable cloth during periods. In the case of the reason for using disposable pads, 43% said it is easy to manage while 20% said it is for hygiene and 31% said it is because of cleanliness. Regarding disposal of sanitary pads, the majority (50%) of them are throwing used pads into the toilet and 21% are throwing with other waste. Regarding the frequency of changing the pad, approximately 47% of respondents are changing only one pad a day and some of them said it depends on bleeding.
Concerning the reason for not using sanitary pads, it has been found that 39% of them said they cannot afford the pad, while 18% of them said it is due to unavailability in rural areas, whereas 18% of them said their tradition and customs are prohibiting them from using modern sanitary pads. In the case of method of drying, 13% of them dry the usable cloth inside the home whereas 52% of them dry it by covering it under another cloth hiding from the other eyes (3).
Table 4: Association among Using Sanitary Pads and Education, Income, Occupation and Family Type

Indicators

Variant

Study Population

Use of Sanitary Pads (n=254)

Chi-square

Education(mothers)

Primary

112(29.1)

43(16.9)

5.76
df=2
p 0.021

Upper Primary

45(11.7)

51(20.0)

High school

178(46.3)

54(21.2)

College

26(6.7)

65(25.5)

No schooling

23(6.80

41(16.1)

Income (in Rs.)

5000-10000

198(51.5)

63(24.8)

6.34
df=2
p 0.003

10000-15000

95(24.7)

78(30.7)

15000 and above

91(23.6)

112(44.0)

Occupation

Skilled

56(14.5)

57(22.4)

7.33
df=1
p0.002

Un skilled

186(48.4)

48(18.8)

Government

12(3.1)

58(22.8)

Private

98(25.5)

 67(26.7)

No job

32(8.3)

 24(9.4)

Family

Joint

157(40,8)

99(38.9)

5.01
df =2
0.013

Nuclear

227(59.2)

155(61.1)
The use of sanitary pads and education level are positively correlated. The Table shows that as the mothers' education level rises, so is the daughters' use of sanitary pads. Also, daughters of the mothers with college degrees use sanitary pads more frequently (25%) comparing to others. One further important factor related to using sanitary pads is income. The use of sanitary products rises in tandem with income level of the family (44%). When compared to the unskilled and the parents of no good occupations, girls from the family of skilled government and private employees are utilizing sanitary pads. Moreover, family type has also a close link to practice of the pads.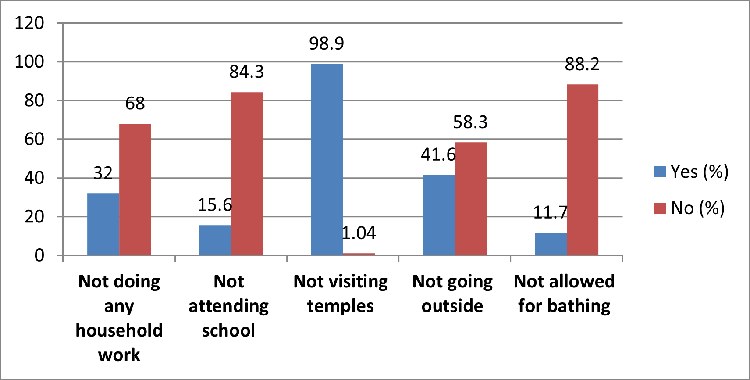 Graph 1: Social and Cultural Taboos during Menstruation [*Multiple choices]
In the study, it has been found that social and cultural issues are associated to menstruation. It was found that only 32% of respondents are permitted to perform household duties while, 15% are permitted to attend school whereas 58% respondents were not allowed to go out during mensuration. The majority of them are forbidden from going temple and few (11%) of them taking bath also. Nearly all respondents expressed the opinion that it is their voluntary choice not to visit temple or performing any religious work during menstruation.
Discussion
The major objective of the paper is to reveal menstrual hygiene practices among adolescent females in two backward districts of Karnataka. The study has shown that 66% of respondents use pads and 33% are not using pads due to cost, shyness, and taboos etc., Knowledge on menstruation and using sanitary pads have a positive correlation with the socio-economic factors of the family. The study also shows most of the girls (51%) had a previous knowledge about menarche. Studies done in Ethiopia and Bangladesh have found the same result (4,5).
This study has found that mothers and schools are the key sources of information on menstruation issues for girls (6). It shows school instructors might also be useful resources. Also, mothers' knowledge needs to augment in this regard because their knowledge of menstrual issues is not very scientific or good enough as the study observed. Today even social media also have played a key role in creating awareness about menstrual issues and using pads as the study found (Table 2).
The present study has found that the majority (56%) of girl respondents have attended by menarche at the age of 11-12 as found in other studies (7,8). Various issues like climate change, food, lifestyle, and lack of physical activities are some of the reasons why today girls are attaining early menarche(10-11 years)(4). The study has found a decline of one month for every decade in the case of the age of menarche among Indian girls (8). Experts have opined that age and length of the cycle can be endorsed to genetics, race, residence geography, caste, wealth, economics, and nutritional status of the families (9).
Unscientific management of menstruation is also one of the key reasons as 20% of women are facing the heavy loss of blood and having dysmenorrhea problems as the study found (10). Because of illiteracy and other issues women in rural areas are unaware of bleeding during menstruation as only 20% of them are aware as the study observed. Some respondents said they use traditional medicine if it bleeds more. Results found that because of taboo, cost factors, and unavailability of lady doctors, most rural women are not interested to consult a doctor for any menstrual problems. A lot of problems in the correct communication also matter here. Distance factor is also one of the key issues in the easy access to pads in remote rural areas (4). (Table 2).
Even today in rural areas some girls are using reusable cloth without any hygienic practices. During the discussion, it has been found that they have no good knowledge about the effect of using cloth and they have taken such issues just casually or as advised by their mothers. The unavailability of water and other sanitary items is also a problem in low-income remote rural areas as the study found. A recent study done in Orissa has proved frequent urinary tract infections due to the usage of reusable absorbent pads (8). It is also observed that around 52% of women were using cloth during menstruation and drying it covering other clothes to avoid being seen by others. These two issues have been in corroborating with the other studies (9,11).
Also, the current study found that there is no idea on scientific way of disposing of sanitary pads, as the respondents throw used pads with other waste, dustbins, or garbage dumping in rural areas due to a lack of awareness and proper disposable facilities. It may affect the general public health and sanitary workers also. Also, the disposable method in the rural parts has a key socio-cultural issue as anthropologists opined (12). NGOs and local health workers must create awareness among women and the local government must make arrangements for the scientific disposal of the used pads.
Another significant finding of the study is that some of the respondents shied away to buy napkins from the male shopkeeper. Also, girls prefer to get napkins from mothers, friends, relatives, etc., It is noted that girls hide the pads with other things while carrying them home from the shop. Also, respondents will hide pads away from family members inside the home most of the time (13). The unavailability of private space and the presence of more male members are also big issues in the case of joint families as the current study noticed (Table 3).
The study also has proved the association between using sanitary pads and socio-demographic factors (Table 4). The level of education (mother's), occupation, and income of the family are the most important factors in choosing scientific management of the menstrual issue and the current findings are inconsistent with the other studies in this regard (9). However, one study has shown that knowledge of using pads during menstruation was not as statistically important with the occupation and income of the family (14). Nonetheless, respondents from nuclear families are less likely than those from joint families to practice proper hygiene as this study found (4). Furthermore, rural society observes a lot of restrictions during menstruation than urban folk. It has been found that respondents were not allowed to perform household work, religious work, and to go outside the home, attending schools etc.,(11). Additionally, it was noted that menstrual women should not touch the male members of the family and the household utensils. Cleaning the bed on the fourth day of menstruation and cleaning the house with the cow's urine was also found to be common here as a part of the purification process. All these aspects further effect on the respondents understanding about menstruation (Graph 1). A community-based health education and the sensitizing the health workers are also very important.
It is suggested that the local government must facilitate easily accessible pads in rural areas at affordable cost. Awareness on the quality of the subsidized napkins is also of concern here. They can encourage the manufacturing of low-cost pads at the village level. Awareness about using pads needs to be done at school, health camps, SHG meetings, etc. Knowledge is also required about the negative consequences of poor menstrual management. It is suggested that disposing bags also must be provided with the pads. Also, there is a need for an environment friendly menstrual waste management policy. Schools/colleges must have a private and proper sanitary facility for girls.
The major limitations of the study are that it has been carried out just in two districts with limited sample size. The topic is very sensitive. A cross-sectional study is also a limitation as causality cannot be inferred. The study was self-report-based with a structured questionnaire. Also, social desirability prejudice cannot be ruled out. It is suggested that new studies must be done on menstrual hygienic management focusing on school dropouts and differently abled girls in rural settings.
Conclusion
In conclusion, the current study has highlighted the importance of adolescent females having a sufficient and accurate understanding about menstruation hygiene. The study indicated that although certain respondents are aware of the usage of pads during menstruation, significant numbers of adolescent females do not use them for financial, social-cultural, and other reasons. The practice of using pads has a significant connection with the mother's educational attainment, occupation, and income. The study advocates educating rural adolescent girls and their mothers more about the negative impact of non-practicing hygienic menstruation management. Also, the need for rapid improvement of the socio-economic status of the rural people is essential as some families are not even in a position to afford good sanitary pads. Steps are necessary to make easy access to low cost sanitary pads at the village level, and easy availability of the lady physicians.
Acknowledgment: Dr. K.C. Srivatsa, Physician, Dist. Health Office, Mysore
Funding: Nil
Conflict of interest: Nil
References
Mahajan A, Kaushal KA. descriptive study to assess the knowledge and practice regarding menstrual hygiene among adolescent girls of Government School of Shimla, Himachal Pradesh. CHRISMED J Heal Res. 2017;4:99-103.
Dasgupta A, Sarkar M. Menstrual Hygiene?: How Hygienic is the Adolescent Girl? Indian J Community Med. 2008;33:77-80
Sinha RN, Pau B. Menstrual Hygiene Management in India: The Concerns. Indian J Public Health. 2018;62:2018-20.
Belayneh Z, Mekuriaw B. Knowledge and menstrual hygiene practice among adolescent school girls in southern Ethiopia: A cross-sectional study. BMC Public Health. 2019;19:1595.
Alam MU, Luby SP, Halder AK, Islam K, Opel A, Shoab AK, Ghosh PK, Rahman M, Mahon T, Unicomb L. Menstrual hygiene management among Bangladeshi adolescent schoolgirls and risk factors affecting school absence: results from a cross-sectional survey. BMJ Open. 2017;7(7):e015508.
Rajagopal S, Mathur K. Breaking the silence around menstruation: experiences of adolescent girls in an urban setting in India. Gend Dev. 2017;25:303-17.
Suman B, Ghate MM, Majumdar JR. School absenteeism during menstruation among rural adolescent girls in Pune. Natl J Community Med 2013;4:212-6
Das P, Baker KK, Dutta A, Swain T, Sahoo S, Das BS, Panda B, Nayak A, Bara M, Bilung B, Mishra PR, Panigrahi P, Cairncross S, Torondel B. Menstrual hygiene practices, WASH access and the risk of urogenital infection in women from Odisha, India. PLoS One. 2015;10:34-39.
Phillips-Howard PA et al. Menstrual cups and sanitary pads to reduce school attrition, and sexually transmitted and reproductive tract infections: A cluster randomised controlled feasibility study in rural Western Kenya. BMJ Open. 2016; 6: e013229
House S, Mahon T, Cavill S. Menstrual hygiene matters: A resource for improving menstrual hygiene around the world. Reprod Health Matters 2013;21:257-9.
Anand T, Garg S. Menstruation related myths in India: Strategies for combating it. J Fam Med Prim Care. 2015;4:184.
Pathak PK, Tripathi N, Subramanian SV. Secular Trends in Menarcheal Age in India-Evidence from the Indian Human Development Survey. PLoS One. 2014;9:45-50.
Nanjunda DC, Venugoapl PN. Hard and Invisible Bricks in the Wall: An Empirical Investigation on Gender, Caste, and Health Among Migrant Brick Workers in South India Journal of the Anthropological Survey of India. 2021;71:1-21
Garg S, Sharma N, Sahay R. Socio-cultural aspects of menstruation in an urban slum in Delhi, India. Reprod Health Matters 2001;9:16-25.