Case Report
Cutaneous Ciliated Cyst of Mullerian Origin on the Thigh in a Young Female

Authors:
Shivali Sehgal, Assistant Professor,
Zeeba S Jairajpuri, Associate Professor,
Sujata Jetley, Professor,
Department of Pathology, Hamdard Institute of Medical Sciences and Research, New Delhi-110029.

Address for Correspondence
Dr. Zeeba S Jairajpuri,
Associate Professor,
Department of Pathology,
Hamdard Institute of Medical Sciences and Research,
Guru Ravidas Marg,
Hamdard Nagar, New Delhi.
E-mail: jairajpurizs@gmail.com.

Citation
Sehgal S, Jairajpuri ZS, Jetley S. Cutaneous Ciliated Cyst of Mullerian Origin on the Thigh in a Young Female. Online J Health Allied Scs. 2021;20(3):15. Available at URL: https://www.ojhas.org/issue79/2021-3-15.html

Submitted: Aug 12, 2021; Accepted: Oct 2, 2021; Published: Oct 31, 2021
Introduction:
Cutaneous ciliated cysts (CCCs) are rare, benign cysts lesions which commonly occur in the lower extremities in young females. They are also called Mullerian cysts because of the morphological similarity of the lining epithelium of the cyst wall to that of the fallopian tube. They are believed to arise from ectopic Mullerian rests which become active during puberty or pregnancy. (1) We discuss an unusual case of CCC in a young female with its differential diagnosis.
Case Report
A twenty year old female presented to the out patient department with a swelling on the lateral aspect of the right thigh. A clinical diagnosis of a keratinous cyst was made. The lesion was excised and sent for histopathology. On gross examination, tissue comprised of an already opened up cyst wall measuring 4x1 cm. It was soft to firm in consistency and grey white to grey brown in colour. Wall thickness varied from 0.5-0.6cm. On microscopic examination, cyst wall showing numerous papillary projections [Figure 1] lined by tall columnar ciliated epithelium was seen [Figure 2]. At places, pseudostratification was present. Few cells with round nuclei and perinuclear clearing were seen at the base of the epithelium mimicking peg cells [Figure 2]. The underlying subepithelial tissue was fibrocollagenous with many blood vessels and chronic inflammatory infiltrate [Figure 1]. A diagnosis of CCC, Mullerian type was made.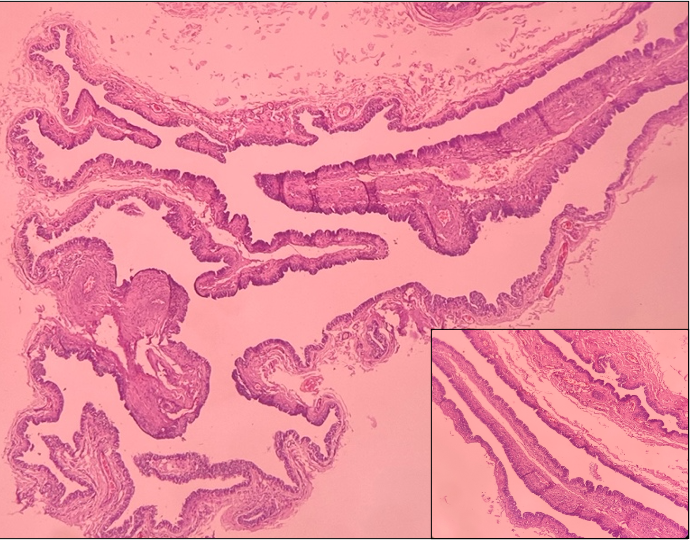 Figure 1: Cyst wall showing numerous papillary projections. [H&E, 100X] Inset showing cyst wall with underlying subepithelial fibrocollagenous tissue [H&E, 100X].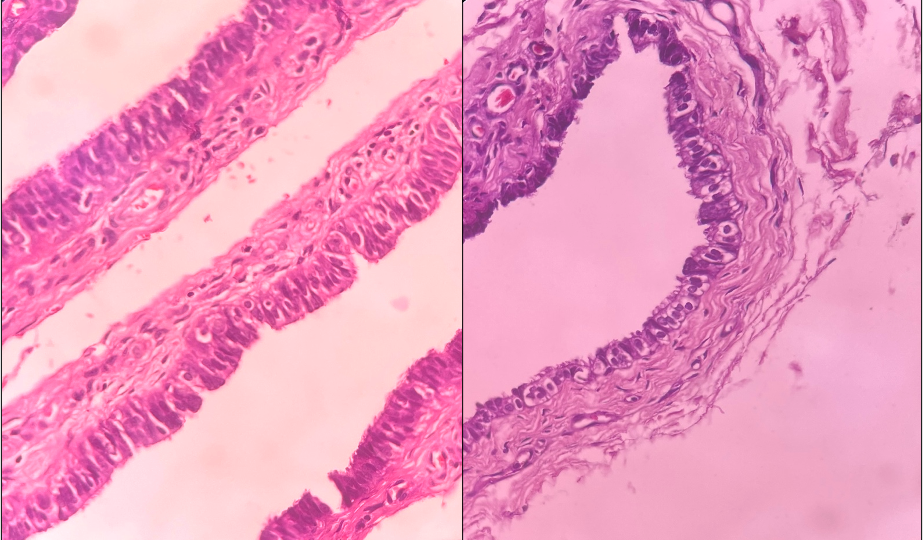 Figure 2: Cyst wall lined by tall columnar ciliated epithelium showing pseudostratification at places. [Left] Few cells with round nuclei and perinuclear clearing were seen at the base of the epithelium mimicking peg cells [Right]. [H&E, 400X]
Discussion
CCCs are simple benign cysts known to occur exclusively in females and are usually asymptomatic. They typically develop during adolescent or reproductive years between 12 to 42 years of age. However, CCC has also been previously reported in a woman of menopausal age. (2) Hormonal imbalance during menopause may affect the dormant Mullerian rest and eventually lead to the formation of the cyst. (2)
CCCs have predisposition to occur on the lower extremities and buttocks which is possibly due to the heterotopic Mullerian duct cell migration during early embryogenesis. (2) Cases have also been reported on the ankle as well as the sacral region in young females. (3,4) Cells from the fimbrial end of the Fallopian tube detach and become incorporated into the lateral mesoderm where lower limb buds arise. These cells migrate or get arrested locally in the area of the lower back and abdomen or in the stream of the lower limb bud. These cells remain dormant until puberty when under the influence of ovarian hormone stimulation, the Mullerian epithelium produces cystic fluid resulting in cyst formation. (1) CCC may also show a growth phase during pregnancy when hormonal activity is once again elevated. Another hypothesis for histogenesis of ciliated cysts is ciliated metaplasia of eccrine or apocrine duct epithelium possibly in response to inflammation and subsequent irritation of pluripotent cells triggered by the cyst's contents. (2,5) This may explain the rare occurrence of these cysts in males. (6)
CCCs are found usually in the deep dermis or subcutis and are single, unilocular or multilocular cysts. Lining epithelium is single layered or pseudostratified and papillary projections into the lumen are seen. As the name suggests, CCCs are lined by ciliated columnar epithelium and also have presence of peg cells or intercalated cells.
The different ciliated cysts amongst the cutaneous lesions include Mullerian cyst, bronchogenic cyst, thyroglossal duct cyst and vulvar cyst. Bronchogenic cysts occur in the neck and apart from ciliated lining also have goblet cells and mucus glands. Thyroglossal cysts also occur in the neck and have thyroid follicles. Many vaginal and vulvar cysts have ciliated lining epithelium. While Mullerian cysts have ciliated columnar, fallopian tube-like epithelium; Gartner cysts or mesonephric cysts are lined by non-ciliated low cuboidal epithelium and arise from vestigial remnants of Wolffian duct. Bartholin cysts and paraurethral cysts which are predominantly lined by transitional epithelium may focally have ciliated columnar lining. (7)
Therefore, Ciliated cysts of the skin and soft tissue form a part of a heterogenous group of lesions developing from different histologic and embryonic structures. It has been suggested that the term 'cutaneous ciliated cysts' be abandoned for the cutaneous Mullerian cysts. The term cutaneous ciliated eccrine cysts should be used for those cysts which are derived from ciliated metaplasia of eccrine cells and occur in males. (8)
Immunostaining reveals positivity for estrogen and progesterone receptors supporting Mullerian histogenesis. (9) Fabien-Dupuis et al reported positivity with ER, PR, PAX-8 and WT-1 in a CCC in a 16 year old girl, supporting its Mullerian origin. (10) Immunohistochemistry was however not performed in the present case.
CCCs are a distinct form of cysts which arise from hormonal activation of Mullerian rests in females. Surgical excision is enough for treatment and recurrence is very rare. Therefore, these rare lesions which clinically mimic other entities should be kept in mind for the differential diagnosis.
References:
Al-Nafussi AI, Carder P. Cutaneous ciliated cyst: a case report and immunohistochemical comparison with fallopian tube. Histopathology 1990;16:595-8.
Torisu-Itakura H, Itakura E, Horiuchi R, Matsumura M, Kiryu H, Takeshita T et al. Cutaneous ciliated cyst on the leg in a woman of menopausal age. Acta Derm Venereol 2009;323-4.
Anbarserry I, Alhamar M, Almousa A, Alsamarrae O, Qader MA, Alsindi K. Cutaneous ciliated cyst. Bahrain Medical Bulletin 2018;40:240-1.
Gun S, Kuru D, Yildiz L. A cutaneous ciliated cyst mimicking a pilonidal cyst. Journal of Clinical and Diagnostic Research 2018;12:ED06-08.
Leonforte JF. Cutaneous ciliated cystadenoma in a man. Archives of Dermatology 1982;18:1010-12.
Osada A, Ohtake N, Furue M, Tamaki K. Cutaneous ciliated cyst on the sole of the foot. Br J Dermatol 1995;132:488-90.
Shea CR, Stevens A, Dalziel KL, Robboy SJ. The vulva: cysts, neoplasms and related lesions. In: Robboy SJ, Anderson MC, Russel P, editors. Pathology of the female reproductive tract. London: Churchill Livingstone. 2002. p.35-74.
Hung T, Yang A, Binder W, Barnhill RL. Cutaneous ciliated cyst on the finger: a cutaneous Mullerian cyst. American Journal of Dermatopathology 2012;34:335-8.
Yokozaki H, Yanagawa E, Harada M, Tagara E. Cutaneous ciliated cyst of the right lower leg. Pathol Int 1999;49:354-7.
Fabien- Dupuis C, Cooper B, Upperman J, Zhou S, Shillingford N. Mullerian-type ciliated cyst of the thigh with PAX-8 and WT-1positivity: A case report and review of literature. Case Reports in Medicine 2016;1-5.