Introduction:
Primary malignant mixed Mullerian neoplasm of ovary incessantly known as carcinosarcoma is an aggressive tumor with dismal prognosis. This infrequent tumor usually involves the uterine corpus but its incidence outside the genital tract has also been reported(1).The accounted frequency of ovarian carcinosarcoma is around 1-3%(2). Risk factors of ovarian carcinosarcoma (OCS) are obesity, nulliparity, estrogen exposure and long term tamoxifen use. Most of the OCS reported so far is common in the postmenopausal women(3). Histologically they are biphasic tumor with varying proportions of distinct malignant epithelial and stromal component. Majority of OCS are solid tumor with varying proportions of cystic spaces. Herein we report a case of ovarian carcinosarcoma presenting as a predominantly cystic lesion with minimal solid component.
Case Report
A 45 year old multiparous female presented to the gynecology outpatient department of Sri Venkateswara Medical College and Research Centre with history of recurrent abdominal pain, dysuria, weight loss and loss of appetite for the past two weeks. She had three live children with no history of abortion and her last child birth was 20 years back. She had a past history of simple hysterectomy with right salpingo oophorectomy seven years back for complaints of profuse bleeding per vagina. Histopathologically, uterus was reported to show anterior wall leiomyoma with no other significant pathology. The patient was symptomless thereafter till she presented here. On examination a mobile mass was felt through fornix per vaginally. Abdominal and pelvic contrast enhanced computed tomography showed a 12.1x8.1x10.5 cm predominantly cystic lesion with thin septa (3 mm) with few minimally enhancing solid components possibly arising from left ovary. [Fig 1]  An explorative laparotomy was planned and the patient underwent left salphingo-oopherectomy along with infracolicomentectomy, para-aortic lymph node dissection and peritoneal washing with biopsy. Intraoperatively a 13x10cm left complex ovarian cyst with no surface deposits was identified. The cyst was grossly adherent to the vaginal vault and bladder.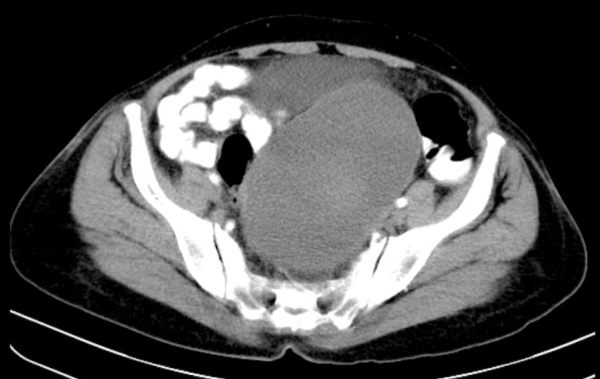 Fig 1: CT scan showing central occupying, single cystic and solid enhancing component tumor with smooth contour. The tumor is closely associated with the left pelvic side wall and abuts the left external iliac vein and artery.
Gross pathology of ovarian mass revealed a multiloculated clot filled cystic mass measuring 12.5x7.5x5cm. Maximum wall thickness of the cyst wall was 0.3cm. On serial sectioning of the cystic mass, irregular grey white solid area measuring 1.5x1.0cm was divulged. No surface deposits or breach of the capsule identified. Histopathological examination of the ovarian mass showed a biphasic tumor composed of malignant epithelial and mesenchymal component along with large areas of hemorrhage.[Fig 2] The epithelial component comprised about 40% of the tumor area with features of high grade serous carcinoma. Carcinomatous components showed glands, sheets and complex papillae with fibrovascular core. Individual tumor cells were pleomorphic, with round to oval vesicular nuclei, prominent nucleoli and scant-to moderate cytoplasm with high mitotic index. The stromal component was homologous and are composed of malignant spindle shaped cells occupying 60% of the tumor area. The spindle shaped cells are arranged in fascicular pattern, individual cells having high nuclear cytoplasmic ratio with vesicular chromatin. Pathological staging was given as FIGO stage IA. Omentum, para-aortic lymph nodes and peritoneal washings were free of tumor. Immunohistochemistry (IHC) marker study for cytokeratin (CK) showed diffuse strong cytoplasmic staining of the epithelial element, while vimentin exhibited diffuse strong cytoplasmic staining of the mesenchymal element.[Fig 3 A,B] Smooth muscle actin (SMA) showed a strong diffuse cytoplasmic positivity suggesting it as homologous component that is leiomyosarcoma.[Fig 3 C]
Fig 2: Photomicrograph of tumor with epithelial and sarcomatous component. (100X, H&E)
Fig 3: Photomicrograph of immunohistochemistry study showing A) Cytoplasmic positivity for CK, B) cytoplasmic positivity for Vimentin, C) Cytoplasmic positivity for Smooth muscle actin. (400X)
Comprehensively a final diagnosis of primary malignant mixed Mullerian tumor of ovary was offered. After cytoreductive surgery the patient was put on paclitaxel 175 mg/m2 intravenously over 3 hours followed by carboplatin. This cycle was repeated every 3 weeks for 6 cycles following which she is kept on regular follow up.
Discussion
Primary OCS are a group of malignant mixed tumors encountered infrequently mostly in the postmenopausal age group.(5) They are highly aggressive tumor and they respond poorly to treatment impacting it a grave prognosis.(3,6) Clinically OCS is indistinguishable from ovarian epithelial neoplasms making it formidable to make a preoperative diagnosis of the former condition. The relatively low incidence and rarity of reported OCS make it more difficult to determine the biology and pathogenesis of the above condition. Various theories were postulated to explain the origin of the two individual malignant components of carcinosarcoma.(4,7) Divergent differentiation from pleuripotent Mullerian mesenchymal stem cell into epithelial and mesenchymal components was postulated by combination theory.(8) Collision theory proposes independent origin of each of the malignant components and its collision to form the mixed tumor. Recent evidences of metaplastic transformation of the epithelial component into mesenchymal component is the widely accepted as conversion theory.(4)
Contrary to literature evidence regarding median age (57-65 years) of presentation of OCS our case presented at relatively younger age (45 years).(9) The gross appearance of the tumor was predominantly cystic filled with hemorrhage with solid areas comprising less than 1% of the tumor surface area. This is an unusual presentation of OCS which has not been described in literatures so far. This finding imposes the importance of all ovarian tumors presenting as cyst to be sectioned serially not to miss out a rare diagnosis. The average size of the above tumor reported in literature ranged from 15-20 cm in diameter in concordance to our present case.(2)
The morphology of OCS is akin to its uterine counterpart. The characteristic microscopic feature being an intimate admixture of malignant epithelial and stromal elements. The mesenchymal component can be of the homologous or heterologous types based on the presence or absence of Mullerian duct element respectively. Kunkel et al, in his series has found that majority of the cases (57%) had serous carcinoma as epithelial component with heterologous cartilaginous component in 36% of the cases followed by rhabdomyosarcoma.(11)Present case revealed serous carcinoma as the epithelial component which was in consonance to most common reported epithelial component in literature.(4,7) However in contrary to prevailing literature evidence regarding mesenchymal component current case showed tumor composed of homologous mesenchymal component of the leiomyosarcoma type.(7) In a recent study from India, endometrioid carcinoma and heterologous rhabdomyosarcoma were the predominant components seen in a series of 27 cases.(7) Admixture of two different epithelial most commonly serous and endometrioid and two different mesenchymal components either of the heterologous or homologous type has also been delineated in the above study.(7) Immunohistochemical positive staining of CK and vimentin is a very useful and reliable method for highlighting the biphasic nature of carcinosarcomas and also for distinguishing it from undifferentiated carcinoma.(4) The impact of the proportion of epithelial and mesenchymal component on prognosis is still debatable. As described by Menon et al in his study mesenchymal component was predominant in our case comprising 60%.(7)
Recently Kunkel et al have studied features of sarcomatous components including type of sarcoma, mitotic count, necrosis, and presence of sarcomatous component outside the ovary in relation to disease-specific survival. Presence of sarcomatous component outside the ovary was identified as an independent adverse prognostic factor.(10) Regarding our case, the factors which contributed for the good prognosis were relatively younger age of presentation, unilateral ovarian tumour, no pelvic lymph node metastasis, no residual implants after surgery and platinum based treatment. Ovarian carcinosarcoma being a rare tumor there is no standard treatment prescribed guidelines for it. The benefit of optimal surgical cytoreduction along with adjuvant chemotherapy has been discussed in many studies. (7) The patient was kept on regular follow up and he was symptomless post chemotherapy.
To conclude we have described the clinicopathological and immunohistochemical features of a rare ovarian neoplasm whose diagnosis is very arduous to be made preoperatively. We present this case for three reasons, firstly for the rarity of the tumor in a relatively young female post hysterectomy. Secondly for the unique morphological presentation of the tumor presenting predominantly as hemorrhagic cyst with minimal solid component. We would also like to emphasize the importance of extensive grossing of the tumor with adequate representative tissue bits for peerless diagnosis. Large multi-institutional studies would be required to enhance our understanding of the disease process and to optimize treatment.
References
Harris MA, Delap LM, Sengupta PS, Wilkinson PM, Welch RS, Swindell R, et al. Carcinosarcoma of the ovary. Br J Cancer. 2003 Mar 10;88(5):654-7.
Del Carmen MG, Birrer M, Schorge JO. Carcinosarcoma of the ovary: a review of the literature. Gynecol Oncol. 2012 Apr;125(1):271-7.
Pushpagiri N, Dinakaran S, Chidambaram A, Pari P. Carcinosarcoma of ovary - a rare case report and literature overview. Int J Adv Med. 2017 Jan 2;3(2):440-2.
Badyal RK, Dey P. Primary ovarian malignant mixed mullerian tumors / carcinosarcomas: a clinico-pathological and immunohistochemical analysis of four cases and review of literature. Ann Pathol Lab Med. 2015 May 5;2(2):C50-57.
Guy J-B, Trone J-C, Casteillo F, Forest F, Pacaut C, Moncharmont C, et al. [Carcinosarcomas in female genital tracts: general review]. Bull Cancer (Paris). 2014 Aug;101(7–8):760-4.
Pacaut C, Bourmaud A, Rivoirard R et al. Uterine and ovary carcinosarcomas: outcome, prognosis factors, and adjuvant therapy. Am J Clin Oncol. 2015 Jun;38(3):272-7.
Menon S, Deodhar K, Rekhi B et al. Clinico-pathological spectrum of primary ovarian malignant mixed mullerian tumors (OMMMT) from a tertiary cancer institute: A series of 27 cases. Indian J Pathol Microbiol. 2013 Dec;56(4):365-71.
Uçar MG, Çakir T, Ilhan TT, Karabagli P, Çelik Ç. Primary Ovarian Malignant Mixed Mullerian Tumour: A Case Report and Brief Review of Literature. J Clin Diagn Res JCDR. 2016 Mar;10(3):QD04-06.
Kanis MJ, Kolev V, Getrajdman J, Zakashansky K, Cohen C, Rahaman J. Carcinosarcoma of the ovary: a single institution experience and review of the literature. Eur J Gynaecol Oncol. 2016;37(1):75-9.
Kunkel J, Peng Y, Tao Y, Krigman H, Cao D. Presence of a sarcomatous component outside the ovary is an adverse prognostic factor for primary ovarian malignant mixed mesodermal/mullerian tumors:  a clinicopathologic study of 47 cases. Am J Surg Pathol. 2012 Jun;36(6):831–7.