Case Report
Trichilemmal Carcinoma of the Scalp

Authors:
Talha Ahmed, Junior Resident,
Jayarama Shenoy, Professor,
Ashfaque Mohammed, Professor,
Shabin Fahad, Assistant Professor,
Bichu Joseph Maliakal, Assistant Professor,
Manmohan Singh Rajput, Senior Resident,
Department of Surgery, Kasturba Medical College, Mangalore, Manipal Academy of Higher Education, Karnataka, India.

Address for Correspondence
Dr. Ashfaque Mohammed,
Professor,
Department of Surgery,
Kasturba Medical College, Mangalore,
Manipal Academy of Higher Education,
Karnataka, India.
E-mail: ashfaque.mohammed69@gmail.com.

Citation
Ahmed T, Shenoy J, Mohammed A, Fahad S, Malaikal BJ, Rajput MS. Trichilemmal Carcinoma of the Scalp. Online J Health Allied Scs. 2020;19(2):17. Available at URL: https://www.ojhas.org/issue74/2020-2-17.html

Submitted: Apr 25, 2020; Accepted: Sep 1, 2020; Published: Sep 20, 2020
Background
Trichilemmal is a term introduced by Headington in 1976 (1,2). Trichilemmal carcinoma, also known as Trichilemmal pilar tumour, usually presents as a solitary exophytic or polypoid nodule on the sun-exposed hair-bearing skin of elderly patients. It is a tumour of the outer root sheath of the hair follicle. It may be keratotic or ulcerated and is usually present for less than 1 year with an accelerated growth phase. It is usually singular and seldom occurs as multiple lesions. A skin biopsy is required for a definitive diagnosis of trichilemmal carcinoma since it is clinically indistinguishable from other skin malignancies. Histology would show lobular proliferation of the follicular epithelium and epidermis with peripheral palisading and glycogen-rich keratinocytes with cytologic atypia and high mitotic activity. It is not known whether Trichilemmal carcinoma arises de nova or due to malignant change of a previously benign Trichilemmoma. Evidence suggests that loss of tumour suppressor gene p53 contributes to its development.(1,2)
A few established treatments for Trichilemmal carcinoma include wide excision (1cm) with clear margins or Mohs micrographic surgery along with systemic chemotherapy consisting of cisplatin and cyclophosphamide to treat metastasis (3).
Case Presentation
We report the case of a 78-year-old female patient who presented to Government Wenlock Hospital, Mangalore with history of insidious onset of a painless ulcer over the left parieto-temporal region of the scalp since 1 and half years which had rapidly progressed in size in the last 6 months. There was no history of preceding trauma. She complained of foul-smelling discharge from the ulcer but no bleeding, no constitutional symptoms such as fever, focal neurological deficits, no comorbidities and no other ulcers elsewhere on the body. Examination revealed a non-tender ulcero-proliferative growth over the parieto-temporal region measuring 5x4cm with black raised everted edges with purulent discharge and slough present on the floor. There was associated left cervical level 2 lymphadenopathy. She was not pale or icteric and had no associated hepatomegaly and bilateral lungs were clear. A working diagnosis of squamous cell carcinoma was considered.
Fig 1: Preoperative pictures of ulcer on parieto-temporal region of scalp.
Full blood count done was within normal limits. Patient underwent edge biopsy of the ulcer which revealed a poorly circumscribed cellular lesion in the dermis comprised of cells arranged in nests and sheets. The individual cells were polygonal with hyperchromatic nucleus, prominent nucleolus and moderate to abundant clear eosinophilic cytoplasm. Focal areas with basal peripheral palisading were seen with moderate cytologic atypia. Foci of pilar type (abrupt) of keratinization were seen with a few interspersed multinucleated giant cells and frequent mitotic activity. Tumour was seen invading the adjacent dermis and subcutaneous tissue with focal continuity with the epidermis. The stroma shows desmoplastic response with chronic inflammation and tumour was seen at the resected margin. These features were suggestive of Trichilemmal carcinoma. The patient underwent contrast enhanced CT of the neck and thorax to detect spread which revealed multiple enlarged lymph nodes in the left level IB, level II and level III with largest noted in level IB and evidence of necrosis noted in the level II lymph node.

Fig 2: Postoperative pictures of rotation flap cover with split skin graft. 2A & 2B: 6 days post-op, 2C (right): 1 month post op - adequate hair growth around the wound is present.
The patient subsequently underwent wide local excision of the ulcer with 1-2cm margins up to the periosteum with rotation flap cover with split skin graft taken from the thigh. Grossly, the lesion was an ulcero-proliferative, grey-white growth of 4.2 x 3.8 x 0.5cm.
The excision biopsy report revealed an infiltrating tumour arising from a dysplastic and ulcerated epithelium infiltrating the sub epithelium in sheets, cords, trabeculae and nests. The cells are polygonal with increased N:C ratio, round to ovoid vesicular nucleus, prominent nucleoli and moderate pale eosinophilic cytoplasm. Frequent mitosis and occasional pleomorphic cells were seen. The surrounding stroma is desmoplastic and shows fibrosis and chronic inflammation. The tumour is at a distance of <1mm from deep resected margin. Perineural invasion was seen. Features were suggestive of a grade 1 well differentiated Trichilemmal carcinoma invading the subcutis. Postoperatively the patient was started on antibiotics and cervical lymph node clinically and histopathologically was proven to be insignificant and regressed with time.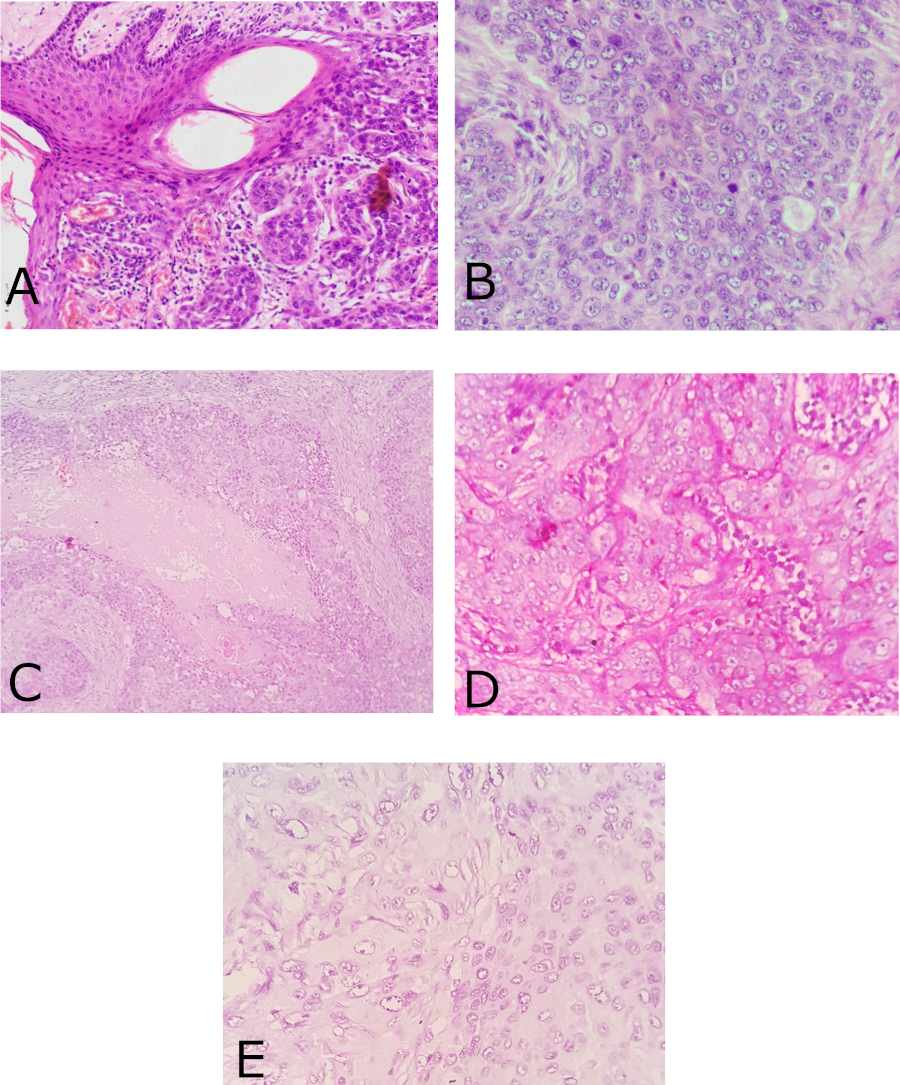 Fig 3: a. Infiltrating lobular proliferation of epithelial cells in a desmoplastic stroma, b. tumour cells exhibit moderate pleomorphism with cellular atypia and brisk mitosis, c. foci of Trichilemmal keratinization, d & e. Tumour cells show PAS positive, diastase sensitive cytoplasm.
Her immediate postoperative period was uneventful, and the patient had no complications apart from usual post-op pain. She was followed up 1-month post-surgery which revealed a well healed scar on the scalp associated with surrounding hair growth and absent palpable cervical lymphadenopathy.
Discussion
Trichilemmal carcinoma is a rare malignant lesion originating from hair follicle cells, commonly on areas exposed to the sun such as the scalp, forehead, face and neck. It is usually seen in women over the age of 40 years. The exact etiology is not known but it is related to actinic damage and is thus seen in patients with burn scars, frequent exposure to radiation such as x-ray and exposure to sunlight. A p53 mutation is thought to be part of the etiopathogenesis (1). In a comprehensive review of literature done in 2014, there has been only 103 reported cases of Trichilemmal carcinoma, most of which were treated with surgical excision. Of the 35 cases with follow up data, 3 reported local recurrences and 1 had metastatic spread (4).
The tumour has been described as an exophytic, ulcerated, polypoid or nodular lesion with possible keratosis. Histopathologically, there would be evidence of a pilosebaceous unit with trichilemmal keratinization, consisting of prominent lobular proliferation of the follicular epithelium and epidermis. The invasive lobules containing glycogen-rich keratinocytes that are periodic acid-Schiff (PAS) positive, diastase sensitive, and cytokeratin 17-positive due to their outer root sheath origin would show peripheral palisading. Unlike its benign counterpart Trichilemmoma, there is cytologic atypia and high mitotic activity (5).
The differential diagnoses should include other skin carcinomas such as squamous cell carcinoma, basal cell carcinoma, invasive Bowen's, melanocytic nevi, malignant melanoma and Merkel cell carcinoma. It should also be distinguished from trichilemmoma and desmoplastic trichilemmoma (both of which would have a similar histopathology to that of trichilemmal carcinoma but without cytologic atypia and high mitotic activity), proliferating trichilemmal tumor (similar histopathology but with an intradermal mass of squamous epithelium), trichoepithelioma (keratin-containing horn cysts on biopsy), and trichofolliculoma (keratin-containing cystic cavity on biopsy) (5).
Trichilemmal carcinoma is thought to have low metastatic potential and low recurrence rate. Thus, surgical excision is deemed curative, with no real need for adjuvant chemotherapy or radiotherapy and with patient being kept on regular follow up. Wide excision is the preferred treatment for trichilemmal carcinoma. The other option is Mohs micrographic surgery which has some advantages including high cure rate, smaller defect size, low recurrence rate and immediate reconstruction (1). In the infrequent instances where Trichilemmal carcinoma occurs with metastasis, there is still no established chemotherapy regimen, however various studies have attempted treatment with Cisplatin, Adriamycin and Vindesine; similar to the regimen used for metastatic squamous cell carcinoma, with positive results. (3,6)
References
Kim YH, Lee YK, Choi KW, Lee CY, Kim KH. A Case of Trichilemmal Carcinoma Treated with Mohs Micrographic Surgery. Ann of Dermatol. 2008 Sep;20(3):157-161. Available at https://anndermatol.org/DOIx.php?id=10.5021/ad.2008.20.3.157
Nemetz MA, daCunha RM, Reeck P, Neto WC, Moreira MTS, Coelho MS. Trichilemmal carcinoma: a case study. Rev. Bras. Otorrinolaringol. 2004 Dec;70(6):832-835. Available from: https://www.scielo.br/pdf/rboto/v70n6/en_a22v70n6.pdf
Yi H, Sym S, Park J, Cho E, Ha S, Shin D et al. Recurrent and Metastatic Trichilemmal Carcinoma of the Skin Over the Thigh: A Case Report. Cancer Research and Treatment [Internet]. Sept 2010;42(3):176. Available from: https://www.ncbi.nlm.nih.gov/pmc/articles/PMC2953782/
Hamman MS, Brian Jiang SI. Management of trichilemmal carcinoma: an update and comprehensive review of the literature. Dermat Surg. Jul 2014;40(7):711-717. Available from: https://www.ncbi.nlm.nih.gov/pubmed/25111341
Hudacek K, Abdelmalek M. Trichilemmal carcinoma (Trichilemmal Carcinoma, Trichilemmomal Carcinoma). Dermatology Advisor. 2012. Available from: https://www.dermatologyadvisor.com/dermatology/trichilemmal-carcinoma-tricholemmal-carcinoma-trichilemmomal-carcinoma/article/691492/
Hayashi I, Harada T, Muraoka M, Ishii M. Malignant proliferating trichilemmal tumour and CAV (cisplatin, adriamycin, vindesine) treatment. Brit Journ of Derm. Jan 2004;150(1):156-157