Introduction:
Actinomycosis is a rare, chronic granulomatous infectious disease caused by gram positive bacteria Actinomyces. It is characterised by formation of abscess, sinuses and fibrosis usually in cervicofacial region (60%), respiratory (20%), digestive (15%) and genitourinary tract where it is a great mimicker of malignancy, tuberculosis, nocardia and other fungal infections. Involvement of other organs and body parts is uncommon and is usually a secondary lesion from other sites mentioned above.
Primary cutaneous actinomycosis of extremities is highly uncommon with less than 50 case reports in the literature(1). It is reported to occur in 3 % cases(1) and is due to secondary involvement from common primary sites by hematogenous dissemination . A case of primary actinomycosis of left upper extremity in a 36-year-old female is presented in this case report because of its rarity in location, presentation and to emphasis on its masquerading nature.
Case History:
A 36-year-old female presented to the hospital with the chief complaint of a swelling over left forearm for 1 year which was gradual in onset and slowly increasing in size. She developed pain over the swelling for 2 weeks. There was no prior history of fever and trauma. Local examination revealed a 2x2 cm swelling with restricted mobility, firm consistency, ill-defined borders and was tender on palpation. The overlying skin appeared normal. Based on the clinical examination a provisional diagnosis of lipoma was made.
Fine Needle Aspiration Cytology (FNAC) of the swelling was performed and 0.5 ml of clear fluid was aspirated. May Grunwald Giemsa stained smears showed colonies of Actinomyces with basophilic radiating filaments with a sun ray appearance surrounded by neutrophils. Many well-formed granulomas composed of histiocytes were also seen. (Figures 1 and 2)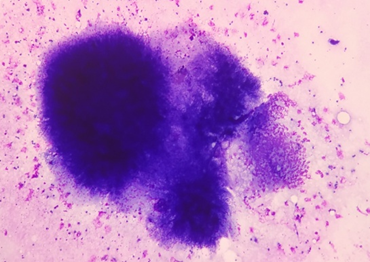 Fig.1: FNAC smears showing colonies of Actinomyces surrounded by neutrophils (May-Grünwald-Giemsa, x100X)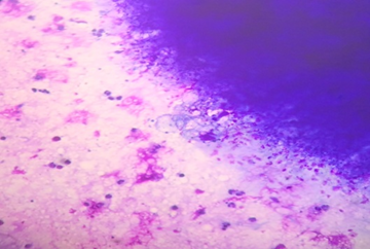 Fig.2: FNAC smears showing radiating filamentous actinomyces surrounded by neutrophils (May-Grünwald-Giemsa, x400X)
Discussion:
Actinomycosis is a rare infection caused by gram positive, anaerobic, bacilli. It primarily exists as a commensal in oropharynx, gastrointestinal tract, genito urinary tract in humans. Actinomyces israelii is the most prevalent species in human infections(2). Local tissue damage, poor oral hygiene, radiation are the most common predisposing factors. Due to their exclusive endogenous habitat, the most common sites of infection include cervicofacial, pulmonary and pelvic organs. Actinomycosis involving extremities is very rare. Only few cases involving hand and wrist were reported in literature.
Actinomycosis is regarded as the "most misdiagnosed disease" (2) and the "Great Masquerader". The office of rare disease of National institute of health has also listed it as a "rare disease" (3).It has an insidious course and diverse clinical presentations including suppurative abscesses and discharging sinuses. It has been a diagnostic challenge even to experienced clinicians. Its chronic and indolent course resembles that of tuberculosis and malignancy and hence delays early diagnosis and appropriate management. This was the scenario in our case too where it was provisionally diagnosed as lipoma.
An appropriate diagnosis of actinomycosis requires a combination of Gram staining, culture, tissue sections and molecular studies of a sample of suppurative exudate, aspirate from the swelling, tissue or yellowish sulfur granules(4). With the low success rate in culturing the organism as a result of its fastidious nature and isolation of the organism and its identification taking from 2 to 3 weeks, Fine needle aspiration cytology is the method of choice in the diagnosis of cutaneous actinomycosis. Being a non-traumatic and accurate diagnostic procedure, the diagnosis can be reached at an early stage(5). It is also a safe, easy, rapid and highly cost effective diagnostic method(6) . The diagnosis of actinomycosis is considered when a gram stain or May Grunwald Giemsa stain shows filamentous fungal-like pathogens showing a club like appearance also known as the "Splendore- Hoeppli" phenomenon(7).
The molecular methods include 16SrRNA sequencing, PCR with specific primers, Matrix-assisted laser desorption ionisation time-of-flight mass spectrometry (MALDI-TOF) which are quicker and accurate tools for diagnosis(8).
Actinomyces species are susceptible to antibiotic therapy. Penicillin G or amoxicillin are considered drug of choice to prevent relapse and prolonged treatment is advised(9).In penicillin allergic patients doxycycline, sulfonamides and cephalosporins are used in alternative regimen and they are supplemented by surgery when necessary(10). Hyperbaric oxygen therapy is given in refractory cases of actinomycosis.
The prognosis is good with early diagnosis and treatment which prevents hematogenous dissemination occurring as complication of actinomycosis.
Conclusion:
This case report emphasizes the varied presentation of Actinomycosis and importance of clinical suspicion in evaluating any soft tissue lesions. FNAC proves to be a simple, quick, non-invasive, cost effective and reliable investigation in the diagnosis of these lesions. Actinomycosis "the great masquerader" is readily treatable and curable, if appropriately managed.
References:
Pratibha S, Arundhathi S, Lakshmi K S, Kumar PR. Primary actinomycosis of the right upper extremity - an unusual presentation. Trop J Pathol Microbiol. 2018;4(1):59–62.
Bose M, Ghosh R, Mukherjee K, Ghoshal L. Primary cutaneous actinomycosis: A case report. J Clin Diagnostic Res. 2014;
Sama CB, Mbarga NF, Oben CE, Mbarga JA, Nfor EK, Angwafo FF. Massive paediatric cervicofacial actinomycoses masquerading as an ulcerative malignancy. BMC Infect Dis. 2016;16(1):1–5.
Varga R, Kovneristy A, Volkenandt M, Sárdy M, Ruzicka T. Primary cutaneous actinomycosis of the femorogluteal region: Two case reports. Acta Derm Venereol. 2012;92(4):445–6.
Gupta C, Singh P, Bedi S, Kapur K. Primary actinomycosis of the breast masquerading as malignancy: Diagnosis by fine needle aspiration cytology. Breast Care. 2012;7(2):153–4.
Yang CH. Primary cutaneous actinomycosis of an extremity: A case report. J Intern Med Taiwan. 2010;21(4):290–3.
Thukral R, Shrivastav K, Mathur V, Barodiya A, Shrivastav S. Actinomyces: a deceptive infection of oral cavity. J Korean Assoc Oral Maxillofac Surg. 2017;43(4):282.
Kaya D. Polymerase Chain Reaction ( PCR ) Technique in Detection of Actinomyces SPP by Using Cervico-Vaginal Fluid Samples. Gynecol Obstet Reprod Med. 2011;17:98-1022011;98–102. Available at http://gorm.com.tr/index.php/GORM/article/viewFile/300/227
Robati RM, Niknezhad N, Bidari-Zerehpoush F, Niknezhad N. Primary Cutaneous Actinomycosis along with the Surgical Scar on the Hand. Case Rep Infect Dis. 2016;2016:5943932. Available at https://www.ncbi.nlm.nih.gov/pmc/articles/PMC5120197/
10. Sharma S, Sharma R, Sharma SC. Primary cutaneous actinomycosis of the lower extremity : A clinical Dilemma. J Orthop Surg Rehabil. 2017;1(2):5-8.